Ceramics course or event
Courses and workshops with clay
You are wellcome to the ceramics course or workshop, where you will learn to express your creativity in clay through various techniques. Children (from the age of 7), adults and already experienced makers as well as complete beginners are welcome. Bring your family or friends and create something unique with your own hands.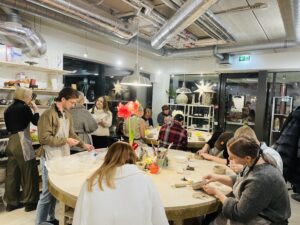 The course includes modeling a clay object under the guidance of an instructor, firing, glazing and glaze firing (does not include the use of a potter's wheel). To complete one work, you should participate at least twice (the first time the object is completed, and after bisque-firing, it is possible to glaze it). 
Price:
• one time up to 2 hours – 25 euros
• 4 x up to 2 hours 80 euros (can be used within 2 months)
The calculation starts for each hour started and also includes the time required for cleaning. If you want to stay longer, 5 euros will be added to the price for each new hour you start. It is possible to buy more clay to make larger things. Lessons last up to 2 hours (including the time to tidy up the workplace after finishing). We speak Estonian, Russian and English.
Prior registration is required for participation, write to myworkshop27@gmail.com or call +372 55646363
Events with ceramics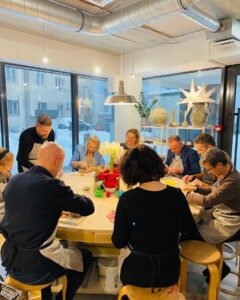 Come stimulate your mind and spirit and test your creativity. Organize an exciting event for friends, acquaintances or colleagues in the company of ceramics.
Package 1. Making a ceramic cup or bowl
The event lasts up to 2 hours, of which about 1-1.5 hours will take to complete the item. When everyone has finished their artwork, then there is an opportunity to enjoy the drinks and food you have brought with you.
Finished items are left to dry in MyWorkshop, then they will be fired, glazed with one color and fired again. Ready items can be picked up in about 3-4 weeks.
The price depends on the size of the group and is between 35-50 euros. It includes making one ceramic object (such as a cup or bowl) under the guidance of an instructor, firing, glazing in one colour and glaze firing. If you would like a multi-coloured object, 5 euros per colour will be added to the price. We can accommodate up to 20 people.
Package 2. Porcelain decoration workshop
In the porcelain decoration workshop, you have the opportunity to decorate a piece of your choice (cup, plate or 2 small expresso cups).
After decorating, the things go into the kiln and you will receive them in a w
eek, just in time to surprise a dear person with your creation.
The price for one person is 35 euros and includes one cup, transfer images, burning and instruction. It is possible to buy additional blanks on site (the selection includes cups, bowls, plates, coffee pots, cream jugs, etc. The price depends on the selected blank).
Ask for an offer +372 55646363 or myworkshop27@gmail.com
You can bring your own drinks and food or order from the Glaze Studio next to our studio.
Pottery lessons
There is pottery wheel in the studio, and no previous basic knowledge or experience is needed, all you need is initiative and patience. It is possible to come for one lesson or buy a 4-time card and come even 4 times in a week. It is recommended to wear older clothes that can get dirty.
1 hour (up to 50 min) of throwing on the wheel costs 20 euros, and the price includes the use of a pottery wheel and clay. The price of firing and glazing depends on the size of the item. The time includes cleaning the workplace and tools after use.
Pottery wheel lessons 8 hour card costs 200 euros and includes use of the pottery wheel, 5 kg of clay and pre-firing, glazing and glaze firing of 4 items.
Prior registration is required, please write to myworkshop27@gmail.com or call +372 55646363